I Feel a Polka Coming on...
This post is mainly for my son and daughter-in-law, but feel free to read!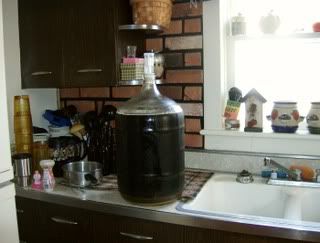 This is the Oktoberfest which has been lagering for so long. It's getting bottled right now. Old Sarge says the alcohol content is around 12%.

Dear God.

We'll definitely save some for when you come home.

Old Sarge bottled the Bavarian Wheat on Friday. It had eaten the airlock. This brew is scaring me; it's 8 or 9% alcohol. And tomorrow we are brewing Pumpkin Ale for the holidays.