VF*n*W Chronicles Continued
My blog has been so full of doom and gloom this past week, it's time to lighten things up with another installment of the VF*n*W Chronicles. I was cleaning Saturday, and found an old floppy disc. It contained a gold mine of embarrassing photos.

Before we moved to our current VFW Post, we belonged to one in our hometown. Every year for Halloween, we would dress up and head down to the canteen. The first year that we did this, our Dear Husbands dressed up as the Bud Light Girls. The following year, 1999, the guys went as Bloomers Girls (so as not to be confused with Hooters Girls- I'm sure you can see the resemblance!).

AND…just so no one thinks all I do is pick on Old Sarge, I am in this picture: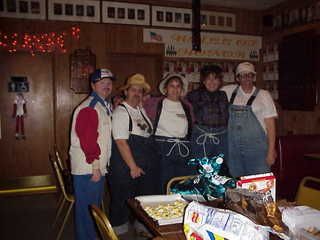 I am NOT in this one, but my friend Di and my BIL, The Big Marine, are:



Will NO ONE buy these lovely ladies a drink???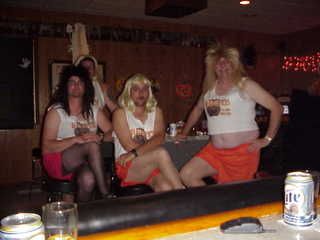 The "girls" with the Original Old Sarge: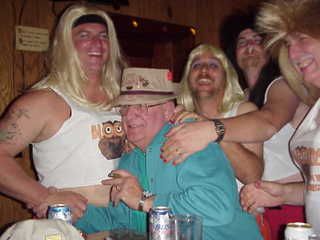 Our current VF*n*W Post has not seen these pictures. I can't imagine my long-suffering husband's expression when he sees and 8X10 glossy of himself in a Peggy Sue wig and blue eyeshadow posted on the bulletin board.

But that's what being a good wife is all about, right?