I Could Have Danced All Night
We have survived the Military Ball once again. It turned out to be a lovely evening. We had MG John Borling as our keynote speaker, and while I have a personal case of ass against him, he was very good.

I have to tell this briefly, a few years ago, he was running for office here in Illinois and was pressing the flesh at a VFW function in Springfield. He was speaking to a small group of us, mainly Old Sarge, about a subject that I was much more familiar with than OS or anyone else, and when I gave a response to the General, he kept talking to the men like I wasn't even there. Those that know me well know that this is not a good thing to do. The man is extremely sexist, and that's all there is to it.

But, he spoke well and gave the POW/MIA toast. He was a guest of the North Vietnamese for 6 ½ years, and nearly had us all in tears giving the toast.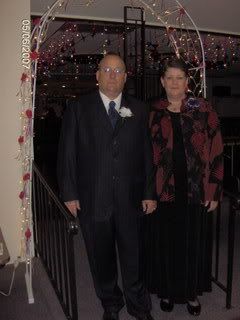 Old Sarge and I sometimes clean up well.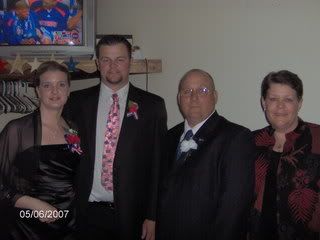 As did the Eldest Son and his girlfriend.




Dancing with the handsomest man in the room.



Who can sing!

Eldest Son was voted Best Male Vocalist for Sweet Home Chicago. I think I will be getting him a black hat and sunglasses for his next performances.