Weekend Round Up
This was, by all standards, one of the most perfect weekends I have ever had. My only complaint was that there wasn't near enough time to spend with the excellent company I kept.

I was supposed to work on Saturday. The Open House is a big deal, but by Friday afternoon, I had been fielding calls such as "When are the explosions scheduled?", (we would NEVER blast with the public in here) and "Do I have to stay with the tour if I would like to fossil hunt?". (Hey, knock yourself out! By the way, those fractured ledges and 400' drops are a bitch! Let's clean out the shallow end of the gene pool!)

So..I went with friends to the post office to ship boxes overseas instead: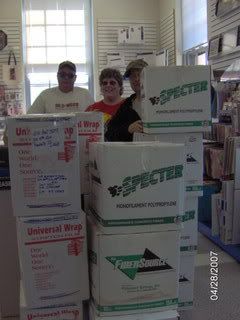 No one appreciates my photographing skills.

Then, off to Hooters! T1G has been gone from our midst for too long, so a little get together was in order. I was finally able to meet Harvey and Richmond, along with her lovely daughters. And Tammi, of course! I had not seen Tammi in over a year, but talking with her is just like slipping on your favorite slippers- you are at once comfortable. I could have talked with her for hours- and I'm sure I will soon.

Oh, and T1G? It's El Yucateco. I will bring you some when I bring Tammi her jelly. Being that you're so damn sexy when you're sweating into your food.

Sunday was Loyalty Day up in Loves Park. I was wondering what kind of turnout we would have- last year, 15 people showed up. The ceremony started at the Gold Star Mothers' Memorial: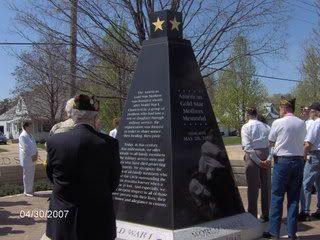 I was very happy to see LL and her children show up! I haven't known of her for all that long, but she has become a daily read for me. I'm hoping we can get together again soon, because she is one helluva patriot.

The Field of Honor has always been a special place for me.




It has a holy feel to it.

Which is why for the life of me I cannot understand how anyone could be so vile as to deface these statues: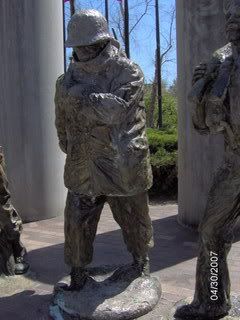 Almost every statue there has had some kind of patchwork done to it. I can't begin to describe how horrified I am at this.

Almost as much as seeing my fat ass on the news last night. First Tammi throws me under the bus by posting my picture at her place, then this. Memo to Loves Park VFW: if you want me to speak and have invited the local station, how about a little heads up, okay??

All in all, though, anytime you can get together with old friends and meet new ones, it is a great day!

UPDATE: I just had a truck driver come in and asked for my autograph. Apparently they ran the tape again this morning. Oh Lord, what have I done to offend Thee?