Grandmotherhood and Potty Training
I am very lucky that I get to see my granddaughter on a regular basis. The Eldest Son, The Heiress and I will usually have Wednesday night dinners together since he doesn't have class. Last night The Girlfriend came over and had bought The Heiress a Barbie cheerleader outfit.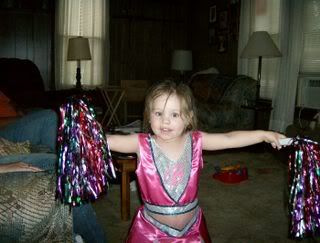 Sorry for the stringy hair- it is REALLY humid. I think I will have to go clothes shopping for her. She hasn't discovered Bratz dolls that I know of, but I certainly don't want her dressing like one.

Which just goes to prove I am getting old and Grandmotherly.

How old? I stood The Heiress up to the kitchen wall and marked her height with the date on it. Did your gramma ever do that? Mine did. Now I realize, too late most likely, that I have set a terrible precedent for writing on my walls.

And this whole potty training thing? I would gladly ask for some advice here, because it just ain't happening. Last night I set her on her Barbie seat on the pot and I sat on the tub. We were in there a good ten minutes and I KNOW she had to go. Nuthin'. Until she got her pull-ups back on. Are these pull-ups a good idea, do you think? The Heiress is 2 ½ and has NO interest in potty training. I wonder if pull-ups make it too easy and comfortable. Granted, it has been over 20 years since I've done this, but I always felt that accidents in training pants kind of made the point to a child WHY you wanted them to use the bathroom. Any thoughts on this? I feel archaic at this point.

Well, I am off to find a pearl chain to hold my glasses and lavender sachets for the dresser drawers. Ta-ta!