Back From Texas
Good morning, y'all! I am back from deep on the heart of Texas, where I have never sweated so much in my life!

Does it look like I'm about to cry? This was the aftermath of Jester's Hotter Then Hell wings. I was in agony.



Young SGT is getting around pretty well. Physical therapy is not his favorite thing, but it's necessary. And he still informs the young enlisted guys that he is thoroughly capable of administering the one-legged flying crutch ass-whopping if needed.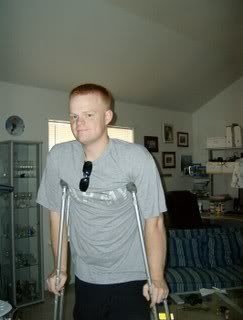 Young SGT knows I loves me a good VF*n*W while I'm away from home. We went to Copperas Cove the first night I got in, but became regulars at Killeen. They were extremely nice there, and by the time I left, I was getting hugs from everyone. Now, every Post has a fixture, and I think this guy, Papa Smurf, was Killeen's:



One thing I loved about this VFW was that there are a lot of soldiers that go there and are completely welcomed. They are so young, you just want to pinch their cheeks and take them home for supper.

I made time to go to the 1st Cavalry Museum one day, and I am so glad I did. You're not allowed to take pictures inside, but I do have a story for AWTM. There was a huge area covering the Cavalry's actions in Viet Nam, including the Ia Drang Valley. Rick Rescorla's picture, the one used on the cover of We Were Soldiers, was on the wall. I was reading the wall, and from behind me came the voice of a man telling who Rick Rescorla was and what he did on 9/11. I wanted to turn around and thank the guy, but there were a lot of people milling around and I wasn't sure who had said it. AWTM, I hope you feel vindicated.

I took the walk outside to see all the equipment, and then walked a little farther to an area set up for memorials.
This one is for 3rd Armored Cavalry Regiment, Young SGT's unit:



It was very beautifully done.

I got to do a lot of shopping at the PX and military clothing store, getting surprises for Old Sarge and cheap shorts for myself. One vendor that had been in the area that I was hoping to connect with was a guy who sells the ribbon magnets. He was usually near the PX, but of course, wasn't while I was there. I kept seeing these black ribbon magnets that said "Some Asshole Stole My Support Ribbon". I guess I could have stolen one off the back of someone's car, but how ironic would THAT be? And let me tell you, I have not missed shopping at the commissary AT ALL. All these old retirees, blocking the aisles. And then I thought, um, yeah, that would be ME.

Base housing yard art:



All in all, I got to spend some good quality time with my son, see the new Harry Potter movie and quaff some adult beverages. Good times, folks, good times.