Loyalty Day 2007
Loyalty Day originally began as "Americanization Day" in 1921 as a counter to the Communists' May 1 celebration of the Russian Revolution. On May 1, 1930, 10,000 VFW members staged a rally at New York's Union Square to promote patriotism. Through a resolution adopted in 1949, May 1 evolved into Loyalty Day. Observances began in 1950 on April 28 and climaxed May 1 when more than five million people across the nation held rallies. In New York City, more than 100,000 people rallied for America. In 1958 Congress enacted Public Law 529 proclaiming Loyalty Day a permanent fixture on the nation's calendar.

Sunday, April 29th has been designated as Loyalty Day this year. For those in the Northern Illinois/Southern Wisconsin area, there will be a ceremony at the Field of Honor in Loves Park at 2:00 p.m.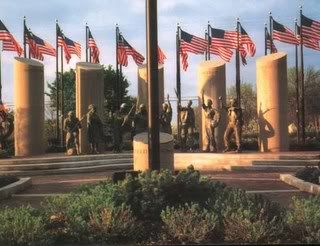 It irritates me that this day goes almost unnoticed unless you are a member of a service organization. If you have a little spare time on Sunday, please join us. It's a pretty safe bet that we will be meeting afterwards at Clifford E. Johnson Post 9759. That address is 2018 Windsor Rd., Loves Park.