The Garden of Good Intentions
I do this every year.

When we moved into this house, the corner of our lot where the huge pine tree grows would grow nothing else but crab grass. So, I have tried every year to get a little flower bed going.
And every year, I let it go to weeds.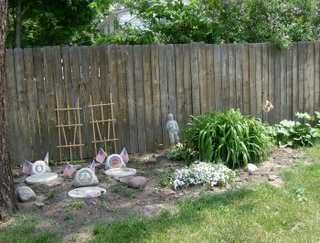 I am posting my good intentions this time, since I have just finished putting in more creeping phlox, and wild assortments of sweet peas, snapdragons, petunias of every color, vinca, impatiens, I can't even remember everything. I have rearranged my stepping stones and rocks (all services) and leveled off my WWII soldier.

Wish me luck.

In my other beds, I have gladiolas and sparaxis coming up, but sorry AWTM, I think the daffodils and iris have shriveled their pods in this chilly climate. But I'm still hoping!