Extended Family Update
Pardon me if this blog occassionally gets a little family-oriented. When you have kids all over hell and creation, as I do, some of them will check in here to see what's up with the family.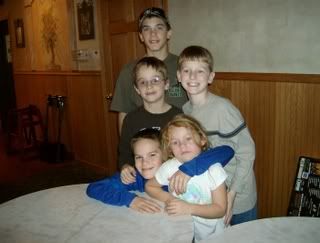 Last night was my nephew Will's birthday party. He is NINE, can you believe it?? He is the one in the grey shirt.
His brother Connor is the little cutie in glasses. Jake has his arm around Ella, trying to get her to hold still.
And then there is Joe in the back. I try not to have favorites, but...his parents ride the crap out of him, and he can be so sweet.
He has shot three deer this fall. With a bow. And he is TWELVE!
Oh, and his voice is starting to change. It made me want to laugh and cry at the same time.