Memorial Day 2007
I wish I could have taken a picture of the over 500 6' x 9' American flags that were flying at the cemeteries Monday morning. After a torrential downpour an hour before the parade was supposed to start, the guys had to scramble to get them all down. They are now drying in every available inch of the upstairs storage room.

So, no parade. We had our Memorial Service indoors at the Post, and even with the last minute change of plans, it was very well attended.

Some members were old: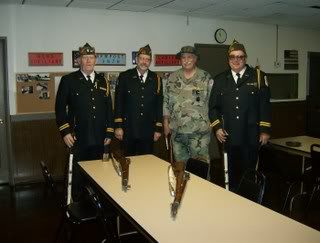 Some are quite new:




The Boy Scouts we borrowed:



The rest of us wore blue:



One of our speakers was a gentleman by the name of Dixon Montgomery. He is a Viet Nam veteran, and spoke very eloquently about how, on the way to the Post, his wife described to him how beautiful the Avenue of Flags looked at Lawn Ridge Cemetery. (I'm glad they were still up) He spoke about how one of those flags had covered the casket of his father, a WWII veteran, and how proud he was to have it flying. He spoke at great length about patriotism, and his love for our country, how sometimes he feels that his heart will burst with pride for being an American.

I won't post a picture of him speaking. It has been almost 40 years since Mr. Montgomery has been able to SEE the American flag. His face is terribly scarred, and he has a lot of difficulty walking unassisted. But he is beautiful to me, as was his message.

Old Sarge and I, after the tears dried:



I sincerely hope everyone had as meaningful of a day as we did.