What Was I Thinking?
The VFW's annual Kids Christmas Party is this Sunday. I look forward to this every year, it's a hoot. We have a bunch of different games for them to play. One is "ice fishing"- three big panels painted as a winter shoreline, and a box big enough to put someone inside as the fishing hole. Kids drop their line in the hole and reel in a present. Another biggie is the cakewalk. I thought cakewalks had gone the way of the dinosaur, but the kids love this. Old Sarge is in charge of this, and this year he has a helper, SPC Sara, who has been back from Iraq for a year now. Santa and Mrs. Claus will come and hand out presents.

And me? I am in charge of the craft table. Last year we made a lot of felt ornaments. I have learned my lesson, and this year I ordered NOTHING that involved any glue. I ordered different bracelets, necklaces, etc. for the kids to make for gifts, and we'll be putting stickers and doing stamping on bags to put them in. Stuff like this:




Cute, huh?

So maybe someone can tell me what in the name of all I hold Holy made me think that THIS was a good idea????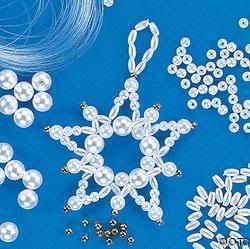 Little tiny beads for little tiny fingers. When I opened the box to make sure I had everything I ordered and looked at these little packages full of seed pearls, I immediately had visions of Santa slipping and falling on little beads that were bouncing all over the floor. Maybe each kid will get a bowl to hold their crafting stuff in. And I will be stuck in Bifocal Hell for two hours.

Maybe next year I can sit in the ice pond.