A Day at the Arsenal
We made our trip to Rock Island Arsenal yesterday to participate in the Wreaths Across America program, and it was nothing like I expected. The Arsenal is right in the middle of the Mississippi River, and as you drive in the main gate, the National cemetery is on your left. I had expected to see rows and rows of wreaths, but other than what families, had decorated with, that wasn't the case. What Wreaths Across America had provided was six large wreaths for the five branches of the services and one for POW/MIA. I guess I had that picture of Arlington in my head and thought that Rock Island would look the same. In retrospect, it would be impossible to provide that many wreaths for all the National cemeteries. But, I was in no way disappointed by what we were about to do.




There were many different service organizations gathering at the flagpole- Viet Nam Veterans if America, Mexican American Veterans Association, Korean War Veterans Association, American Legion and VFW. The local Civil Air Patrol and their cadets were organizing the event. I didn't realize we even had that anymore!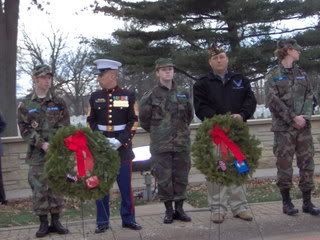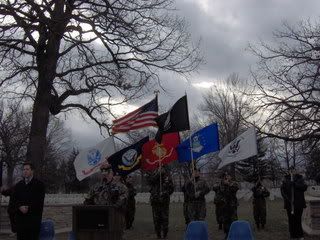 Representatives of every branch of service were lined up with a cadet behind their wreaths. The cemetery director and the commander of the Civil Air Patrol spoke, and then the wreaths were placed one at a time around the flag. The firing squad fired, and a bugler from Bugles Across America played taps. It was very nice.




I wish there had been more people attending, but as this was the first time for Rock Island, I'm sure it will be better next year. We exchanged information with the Commander, and followed the 8th District Auxiliary President back to the Rock Island VFW Post for lunch. These folks couldn't have been more gracious. That, above anything else, is what I love about service groups. The gal who is 8th District president didn't know me from my years as 6th District president, but by the end of the day, we were best pals. We know the same people, we do the same work- hell, she even let me help clean up the kitchen with her after lunch!




It was a great day and I look forward to doing this again next year.