Sign of the Times
Cool mornings, school has started, soybeans just beginning to turn yellow- sure signs that autumn is slowly but surely headed our way. I love the fall; maybe it's having an October birthday, but this is always the time of year I look forward to most. Oktoberfest, hayrides, leaves changing color and Halloween. My favorites sweaters, my suede Bandolino clogs, (Old Sarge could not understand how I could possibly spend $60 on shoes- on sale!- but they are my favorites)and Friday night football at the high school. I love it all.

However.

THIS gave me quite a bit of pause last night: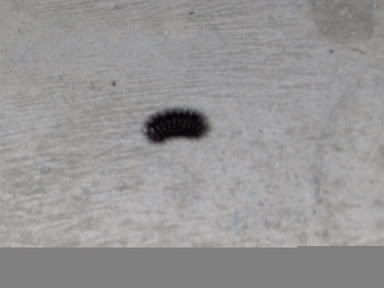 Yes, this little spot of darkness on my front porch caused much consternation in the Rage household last night. This fuzzy little caterpillar, no more than an inch long, is known here in God's Country as a woolyworm, and is respected as the ultimate authority on what kind of winter we will be having. The darker the color, the more severe winter will be.

And this bad boy was pitch black.

Think I'm kiddin'? Not so many years ago, my dad was riding around in his truck, arms crossed on top of the steering wheel, and he stopped in the middle of the road to look at a woolyworm. Got the hell rear-ended out of himself for doing that, too. I don't remember what winter was like that year, but I'm sure the woolyworm didn't have to worry about it.