Rolling Victory Fast
I have been meaning to address this for some time now: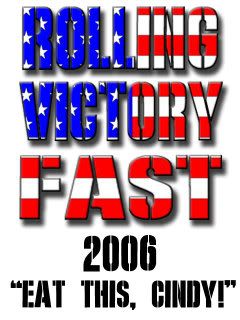 Tanker Brothers is a must read for me everyday. Master Gunner and Cav Tanker are two of the most squared away soldiers I know, and they are getting ready to deploy again for an extended desert vacation getaway. They also share my complete disgust of Cindy Sheehan- this is the post that started the Rolling Victory Fast.

I'm signed up for October 6th. It's a Friday and...it's my birthday, so I was planning on liquid-only consumption anyway. What better way to spend the day than supporting our soldiers who get it??