Go Speed Racer!
It was about a year ago that I blogged about my nephew, Ty, who has been racing since he was four years old. At that time, he was promoting the Unmet Needs program for the VF*n*W Foundation, and got to meet Jerry Nadeau:




Ty's eleven now, and will be moving up a class next year from Bandoleros to this: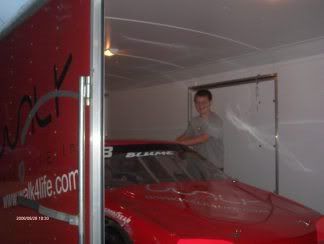 Nice birthday present, huh? Not the best picture, but there is room for both cars in the trailer and it has lights inside- very nice. I've been getting more drawn back to racing, much to Old Sarge's displeasure. For a few years when we first got married, it was a very big part of our lives. That and the VFW. Now, at OS's insistence, we aren't doing anything with either. Well, he's not. I just can't be content sitting at home watching TV every night.




Hey, see the side here? I told my sister that she didn't need to peel the CANNING, INC. off the side- that can stay as my sponsorship advertising this year. Very appropriate!