The Skinny
What have I been up to?

Well, on Saturday Old Sarge and I were volunteers at a golf playday for Wounded Warriors. A young Captain's mom put this on for 1-75 Cav out of Ft. Campbell. There was a Huey flyover, and instead of a shotgun start, there was a cannon start. Really!
Some of our soldiers, including CPT G:




Sunday was the Heritage Days Parade in Rochelle. Every time we do a parade, more and more of the young vets are with us. My son is the one in the DCU's and he said the Marine was out of step the whole way: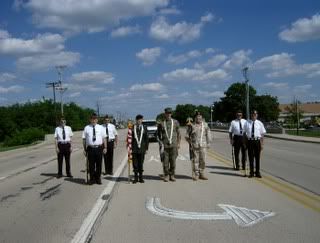 Speaking of which, Son #2 has decided that the Army Reserves are too slack for him, and he is asking to be released. So that he can go back to active duty with his old unit.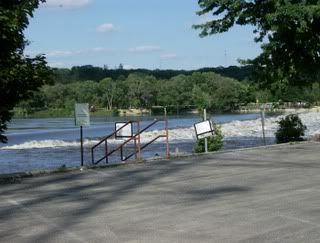 And then there is water. Oh my Lord is there water! When you sell your house, I believe you must claim whether there is a water problem in the basement. If WE were selling, we would have to declare that it is not only wet, it is flowing! ("Rustic turn-of-the-century home with natural springs!")

Sometime during all these storms we have been having, our upright freezer in the garage went out. Normally we would have realized this, since we go out there every day or two for meat, but Eldest Son's freezer had gone out two weeks ago, and we have been having beef three times a day so as not to waste it. Alas, ours probably bit the big one at the same time his did. There are not too many smells that are worse than 200 lbs. of cow gone bad in August.

Damn near made me a vegetarian.