Danimal
Yep, it'll probably be All Bears, All The Time for the next two weeks. Please excuse me and allow me my few moments of glory before The Beloved get their asses handed to them.
I have always been a Bears fan. But my fanhood increased exponentially in 1982, when the Bears came to Arizona. At the time, Papa Bear George Halas was wintering in Paradise Valley and wanted to see how the team was shaping up, so he flew them out to have a look. I had just had Young Sgt a few months earlier, and it was a treat to get out of the house and go see the Bears practice at Sun Devil Stadium.

I saw Gary Fencik. Doug Plank. Sweetness himself. Oh my God, I was in heaven!

And then, in the end zone giving an interview, was Danimal.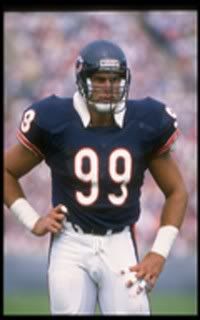 I thought he was the biggest, most arrogant SOB I had ever seen.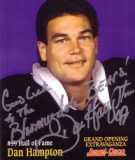 And of course, promptly fell in lust.





I mean, for the love of all that is holy, THIS is a MAN! It nearly broke my heart when he retired in '90.

Seasons come, season go. But for me, Dan Hampton is still my all time favorite Bear.