Semper Fi, Michael
Of all the great times this past weekend, the best of course was my brother-in-law's retirement ceremony.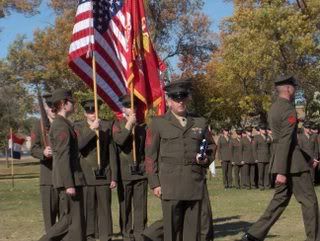 But then, it's always good to spend time in the company of Marines.

We stopped at the Arsenal's tiny PX to pick up a few things. Two Marines were waiting in line as the only cashier was trying to help us, and we let them go ahead as they looked pressed for time. One of them said, "We aren't really, we just need to get dressed for a damn retirement ceremony." Old Sarge just smiled and told them that's we were heading too, since 1SGT Mike is his brother. Damn, I felt bad for that kid!! He was checking out a bottle of Cuervo, and I told him I'd be meeting him at the parade grounds. He grinned and said it helped take the edge off.

It was an absolutely gorgeous day on the Mississippi, and I wouldn't have missed it for anything.