Rolling Victory!!!
Today's the day! To celebrate my 48th year of walking this earth, I'm doing this: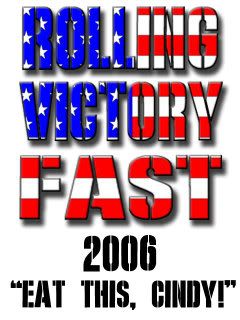 Yep, no birthday cake today. It's finally my turn to say yes, I support our military AND their mission.

So right now I'm at work, full moon out my window, 1st Infantry Division coffee cup filled with the nectar of life, ready to do my part. I'll update this during the day to let you know how I'm doing.

12:00 noon:
My office has decided to take the money we would normally spend on lunch and donate it to the VF*n*W's Operation Uplink program, which provides phone cards to deployed and wounded service members.

3:00 pm:
Thanks to everyone who left the kind words over at Tanker Brothers. I'm offline for the rest of the day, but I've appreciated everything. If you don't do another thing worthwhile all day, say a prayer of thanks for our men and women in the military!