Raging in Georgia, Part II
My son and daughter-in-law adopted two stray dogs when they bought their house. Although they are starting to become a little domesticated, they didn't take kindly to the strange lady in the other bedroom rolling out of bed to use the bathroom. Jeebus Kee-rist, can those dogs bark! After making sure that everyone in a three block radius was awake, we had coffee, waited for an electrician to come and confirmed that, yep, the light in the ceiling fan in the living room is fucked up, we went downtown to the River Walk. Columbus is right on the Chattahoochie River, and the city has developed a really beautiful riverfront park.




While it was chillier than I had hoped, it was great for me at least to be out walking around in just a light jacket.

Now, I'm not really picking on Southerners. God knows you can find plenty of shit here up North that causes WTF moments. But this???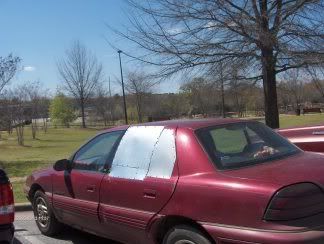 That's sheet metal riveted on to replace a window. In all fairness, the car had Alabama plates.
We went out for lunch, just so I could amuse the children by spilling my soup down the front of my shirt not once, not twice but dingdingding! Three times. Dinner was Red Lobster, being the good (cough cough) Catholic ( cough!!) I am, I still observed Lent. Not much of a chore when Lobsterfest is going on. We had to wait about 40 minutes, during which I chatted with a very nice lady whose son had just graduated RIP training. He was going to be going to Ft. Stewart, where one of my other boys is at, so we had a lot to talk about. OH….she is from LOMBARD.
After dinner, we went to the Columbus VFW. This was something I was looking forward to. It can be a hoot going to other Posts, talking to people, gambling or whatever. I can just about walk into anywhere and know everyone in there within half an hour. That's just me. So, we walk in and there is a $5.00 cover charge; they're having a dance. No big deal, but they didn't ask to see a membership card. Okay, maybe this club is open to the public. We sat down at the bar and waited. And waited. Waited some more. There were maybe half a dozen people tops sitting at the bar, so there's no way the bartender COULDN'T see us. Except we were getting treated to the full back assault. Finally after fifteen minutes, we were able to get her to come over, but there was absolutely no friendliness going on. Come to think of it, nobody in there wanted anything to do with us. It just blew me away, because that would never happen at a VFW up here. I left a little note as we were leaving. Figured they might as well know who it was they were being rude to, though I doubt if they gave a shit.

Memo to self: maybe not the best idea to go to a Southern bar wearing a Bears shirt.

The 3ID was having their Homecoming on Friday night. Diamond Rio was playing, and it was supposed to be a big deal. God knows with all those soldiers sitting on the concrete, scrubbing the sidewalk with a toothbrush, it should have been!

Thus ended day two in Georgia.