Shot Gun Season- Finale
Oh my Lord, is it c-c-c-cold outside! My car thermometer hit -5 degrees this morning on the way to work. That's cold, I don't care who you are.

But at least it's keeping the "harvest" in good shape. This is what the mighty hunters managed to do second season: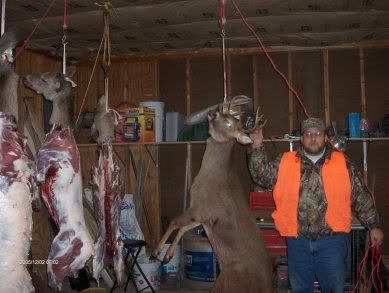 No one saw anything after Friday night. When Sarge and I went to the check in station, they said that only 60 deer had been checked in that say- way down from last year.
So, tonight after a little more lawyering, we'll be making cheddar-onion brats. God knows nothing says love like rinsing out sheep intestines!